66 - 85 Dodge truck short bed running boards steps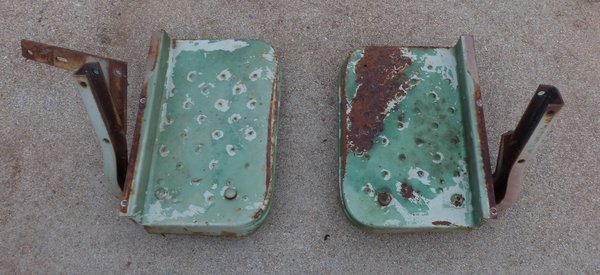 66 - 85 Dodge truck short bed running boards steps
This is a pair of steps removed from a 1979 shot bed utiline. These steps or running boards are they are called in the parts books are correct for all 1966 (built after serial 1572989) and later short bed trucks. D100 and D200 crew cabs with 6.5' bed. The passenger side step also fits 1959 - 1966 trucks. These come with the mounting brackets and braces. One of the steps is slightly pushed up on the leading corner, and there is no rot or worn out nipples. Otherwise they are in great shape. Just media blast them, fill the small hole and paint to match.
The steps pictured are gone but the ones for sale are identical with a slight variation. One of the mnouting brackets has a gas tank support having come from a 79. This could be cut off and the bracket would match the steps pictured. I will have pics updated soon.
Fedex shipping is included in the price to the lower 48 states.